Ifor Williams Beaver Tail Trailers
Commercial - Beavertail Trailers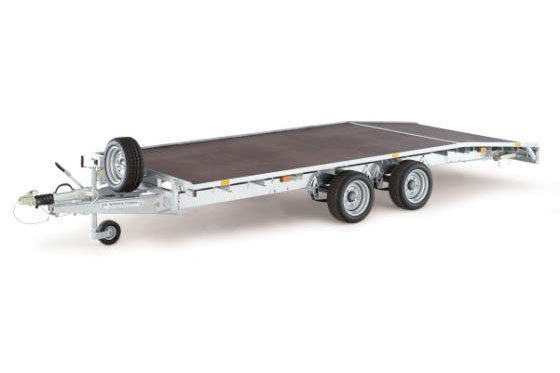 Closely related to the flatbed range, and with the addition of a sloping rear bed section, these trailers offer the flexibility of a flatbed with the added benefit of a low loading height to the rear of the trailer.
As with all Ifor Williams flatbed trailers, the beavertail range can be fitted with one of their winch options, allowing the recovery and loading of broken down or unpowered vehicles.
The beavertail range is offered in width options of 1.98m/6'6" and 2.25m/7'6" and length options of 4.23m/14' and 4.77m/16'.
The maximum gross weight for the lighter LT models is 2000kg, whilst the heavier LM models offer the maximum gross weight of 3500kg.
Specification
| Model | Tyres | Gross Weight | Unladen Weight | Internal Length | Internal Width | Overall Length | Overall Width |
| --- | --- | --- | --- | --- | --- | --- | --- |
| LT146/B | 145R10C | 2000kg | 685kg | 4.24m/13'9" | 1.90m/6'2" | 5.60m | 2.05m |
| LM146/B | 195/60R12C | 3500kg | 725kg | 4.24m/13'9" | 1.90m/6'2" | 5.60m | 2.05m |
| LM147/B | 195/60R12C | 3500kg | 780kg | 4.24m/13'9" | 2.16m/7'1" | 5.60m | 2.30m |
| LM166/B | 195/60R12C | 3500kg | 785kg | 4.84m/15'8" | 1.90m/6'2" | 6.25m | 2.05m |
| LM167/B | 195/60R12C | 3500kg | 875kg | 4.84m/15'8" | 2.16m/7'1" | 6.25m | 2.30m |
For more details, download the brochure

Beaver Tail Trailers