Ifor Williams Eurolight Trailers
Ifor Williams Eurolight EL-101-2012 Trailer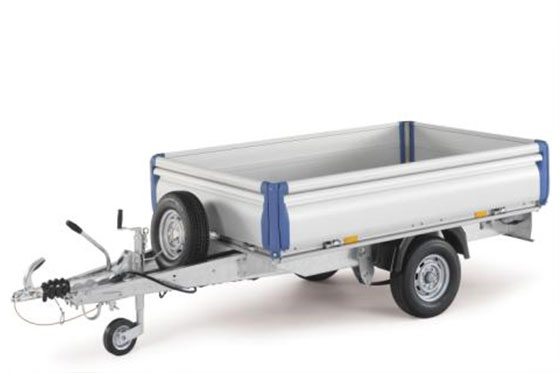 Introducing the Eurolight, designed for the commercial and domestic user running small commercial vehicles or cars.
Offering a choice of eleven multi purpose trailers, the Eurolight range has been designed for versatility. With a maximum gross weight of between 1000kg and 2000kg, there is sure to be a trailer in the range to suit your requirements.
Tow in Style
: the Eurolight range incorporates all of the high standards expected from Ifor Williams Trailers, whilst at the same time introducing aesthetic changes to produce a stylish trailer that remains in-keeping with the distinctive Ifor Williams design.
Model illustrated: EL101-2012
Tyres: 145/70R13C
Gross Weight: 1000kg
Unladen Weight: 225kg
Internal Length: 2.08m
Internal Width: 1.30m
Overall Length: 3.38m
Overall Width: 1.39m
Specification
| Model | Tyres | Gross Weight | Unladen Weight | Internal Length | Internal Width | Overall Length | Overall Width |
| --- | --- | --- | --- | --- | --- | --- | --- |
| EL071-2012 | 145/80B10 | 750kg | 200kg | 2.05m | 1.30m | 3.40m | 1.40m |
| EL071-2512 | 145/80B10 | 750kg | 218kg | 2.55m | 1.30m | 3.95m | 1.40m |
| EL101-2012 | 145/70R13C | 1000kg | 225kg | 2.08m | 1.30m | 3.38m | 1.39m |
| EL101-2512 | 145/70R13C | 1000kg | 247kg | 2.58m | 1.30m | 3.91m | 1.39m |
| EL101-2515 | 145/70R13C | 1000kg | 290kg | 2.58m | 1.58m | 3.88m | 1.67m |
| EL142-2512 | 145/70R13C | 1400kg | 318kg | 2.58m | 1.30m | 3.91m | 1.39m |
| EL141-2515 | 165R13C | 1400kg | 296kg | 2.58m | 1.58m | 3.88m | 1.67m |
| EL142-2515 | 145/70R13C | 1400kg | 349kg | 2.58m | 1.58m | 3.88m | 1.67m |
| EL142-3015 | 145/70R13C | 1400kg | 368kg | 3.08m | 1.58m | 4.38m | 1.67m |
| EL142-3615 | 145/70R13C | 1400kg | 396kg | 3.68m | 1.58m | 4.98m | 1.67m |
| EX202-2515 | 145/70R13C | 2000kg | 358kg | 2.58m | 1.58m | 3.88m | 1.67m |
| EX202-3015 | 145/70R13C | 2000kg | 376kg | 3.08m | 1.58m | 4.38m | 1.67m |
For more information, download the brochure

Eurolight Trailers