Ifor Williams General Duty Trailers
Commercial - General Duty Trailers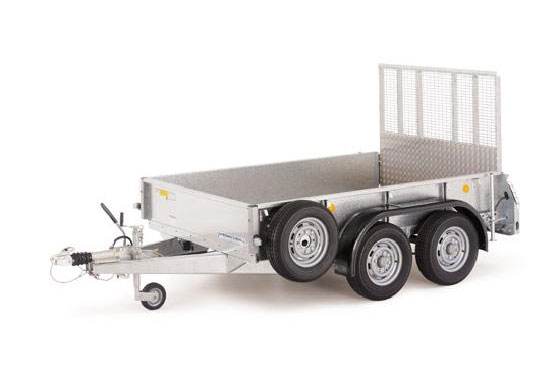 Our General Duty trailers are at home in almost any environment, with virtually any type of load, from building materials to expedition equipment.
Tough, adaptable and easy to maintain, the General Duty range is designed to withstand the daily rigour of the construction industry and other arduous conditions.

The trailers are built around a welded steel, galvanized chassis with fixed front and side panels. These panels are constructed from formed galvanized steel and are supported by galvanized steel channel sections.

The general Duty range is offered in width options from 1.23m/4' to 1.71m/5'6" (internal width), and length options from 1.84m/6' to 3.71m/12'2". All models are fitted with the Ifor Williams beam axle and leaf sprung suspension and either a tailboard or rear ramp with assistor.

IWT General Duty trailers are available with a number of axle options and a maximum gross weight ranging from 1400kg to 2700kg.
Specification
| Model | Tyres | Gross Weight | Unladen Weight | Internal Length | Internal Width | Overall Length | Overall Width |
| --- | --- | --- | --- | --- | --- | --- | --- |
| GD64 Single Axle | 165R13C | 1400kg | 325kg | 1.89m/6'2" | 1.25m/4'1" | 2.95m | 1.75m |
| GD84 Single Axle | 165R13C | 1400kg | 355kg | 2.5m/8'2" | 1.25m/4'1" | 3.60m | 1.75m |
| GD84 Single Axle | 175/75R16C | 1500kg | 395kg | 2.5m/8'2" | 1.25m/4'1" | 3.60m | 1.80m |
| GD84 Single Axle | 6.50R16C | 1500kg | 400kg | 2.5m/8'2" | 1.25m/4'1" | 3.60m | 1.80m |
| GD84 | 165R13C | 2700kg | 450kg | 2.55m/8'2" | 1.25m/4'1" | 3.60m | 1.80m |
| GD85 Single Axle | 165R13C | 1400kg | 395kg | 2.5m/8'2" | 1.58m/5'2" | 4.0m | 2.20m |
| GD85 | 165R13C | 2700kg | 485kg | 2.5m/8'2" | 1.58m/5'2" | 4.0m | 2.20m |
| GD105 | 165R13C | 2700kg | 585kg | 3.11m/10'2" | 1.58m/5'2" | 4.55m | 2.20m |
| GD125 | 165R13C | 2700kg | 585kg | 3.73m/12'2" | 1.58m/5'2" | 4.95m | 2.20m |
| GD106 | 165R13C | 2700kg | 600kg | 3.11m/10'2" | 1.77m/5'9" | 4.55m | 2.30m |
| GD126 | 165R13C | 2700kg | 625kg | 3.73m/12'2" | 1.77m/5'9" | 4.95m | 2.30m |
For full details, view the product brochure

General Duty Trailers